Buzz! Buzz! Buzz! Buzz!
Have you heard the buzz about the best new show of the year? Hell, this is probably my favorite show of the decade. Yellowjackets (Showtime) is the kind of show I have always wanted and never thought I'd get.
Yellowjackets ticks all of my boxes and tickles all of my fancies. To name a few, it offers:
Not simply a "female led" or "female driven" cast, this is a female dominated cast. We get that rare treat of an entire League of Shrews.
Richly drawn, well written and nuanced characters with relatable flaws and problems. Even though their circumstances are beyond extraordinary, we can see ourselves in the Yellowjackets.
Mystery, suspense, intrigue, supernatural questions, cultism. It's a "who done what?" kind of show.
One of my favorite lines from The Taming of the Shrew that has become my motto is Katherine's, "If I be waspish, best beware my sting." The choice of the Yellowjacket wasp as a mascot is so precisely pointed and sharp, I'm choosing to believe that creators Ashley Lyle and Bart Nickerson also held Katherine's line close to their hearts as they developed this exquisite sensation of a show.
As is asked many times throughout Season 1, "What really happened out there?" The basic premise of the show is fairly simple. In 1996, a girls' high school soccer team wins the State Championship in New Jersey. On their way to the National tournament, their private plane crashes in the remote Canadian wilderness and those who survived the crash must now survive in the woods – for 19 months! 25 years later, four of these badass warrior women survivors are reunited to face the reality and repercussions of their collective trauma. That's the simple synopsis. It gets complicated!
I don't like a review that just doles out the entire plot. I don't go to a film or TV review to get the whole story, or God forbid, come across spoilers! Booo! I won't do that, especially not now and definitely not without warning. I will focus on strengths, weaknesses and reasons to watch or not watch. My number one reason to watch Yellowjackets is:
CHARACTERS & ACTORS
Major shout out to some unsung heroes of the entertainment industry here: Casting Directors! Junie Lowry-Johnson and Libby Goldstein are the casting directors behind this project, and they hit a grand freaking slam. Matching the character with the perfect actor can be a long, tedious, challenging process. When it's done well, we never have to think about it or question the choices. When casting is done poorly, it can tank even the best script. While there are many factors and people, such as producers, executives (and their opinions), that determine final casting decisions, it all starts with the CD. PERFECT. PERFECT. EXTRAORDINARY WORK.
Because of the dual timelines of the past and present day, we get to see our four main characters as both teenagers and adults in their 40s. They are
Shauna                          
played by Sophie Nelisse & Melanie Lynskey
Natalie               
played by Sophie Thatcher & Juliette Lewis
Taissa                
played by Jasmin Savoy Brown & Tawny Cypress
Misty Fucking Quigley
played by Samantha Hanratty & Christina Ricci
The casting of the younger and older versions of the characters is incredibly believable. The actresses not only resemble each other remarkably well but also convincingly and skillfully play the same character. Christina Ricci and Samantha Hanratty, e.g., both employ a couple quirky little mannerisms that are so fucking Misty, it is absolutely delightful to witness. Each one of these actors has heavy material to carry and they all handle it masterfully. It is impressive work that comes off as effortless, although I deeply respect how difficult and demanding the work truly is.
The SAG-AFTRA Awards is one of the few entertainment awards to honor an Ensemble as well as individuals. The award is for the cast, not the overall show. An Emmy for Best Drama, or an Oscar for Best Picture in contrast, goes to the Executive Producers. I love that the SAG-AFTRA Awards recognize the group effort of actors, how the individual performers contribute to executing the vision of the creators. That's one of the themes of Yellowjackets, how does this team work together for survival? Which is why I am deeply disappointed that the SAG-AFTRA Awards Nominating Committee failed to nominate Yellowjackets in any category! I keep asking, "Did people mix up Yellowstone and Yellowjackets on their ballots?" That's the only explanation I have for why this show did not get an "Outstanding Performance by an Ensemble in a Drama Series" nod. Ok, I will give a slight benefit of the doubt that maybe people just did not discover it in time. The show premiered November 14, 2021 and the season finale aired January 16, 2022. The nominations were announced January 12, when audiences were still discovering the show and the buzz had not gotten loud yet. Fine. EMMYs, you have no excuse! Your nominations will come out late summer/early fall. I expect all your awards in all categories of acting, directing, writing, etc., to go to my Yellowjackets team! Come on!
What I love most about these four main characters is that they are all Shrews in their own way. A Shrew is and can be many things, including but not limited to:
Independent
Confident
Proud
Opinionated
Free Spirited
Free Thinking
Non-Conforming
Bold
Boisterous
Loud
Angry
Fierce
Intense
Rebellious
Outcast
Ostracized
A Shrew knows who she is, what she wants and speaks her truth. Not all the characters are fully formed Shrews as teenagers, but the seeds are there. When we catch up to them 25 years later, they have developed and embraced an inner strength and personal power that is glorious to behold in women on TV.
SHAUNA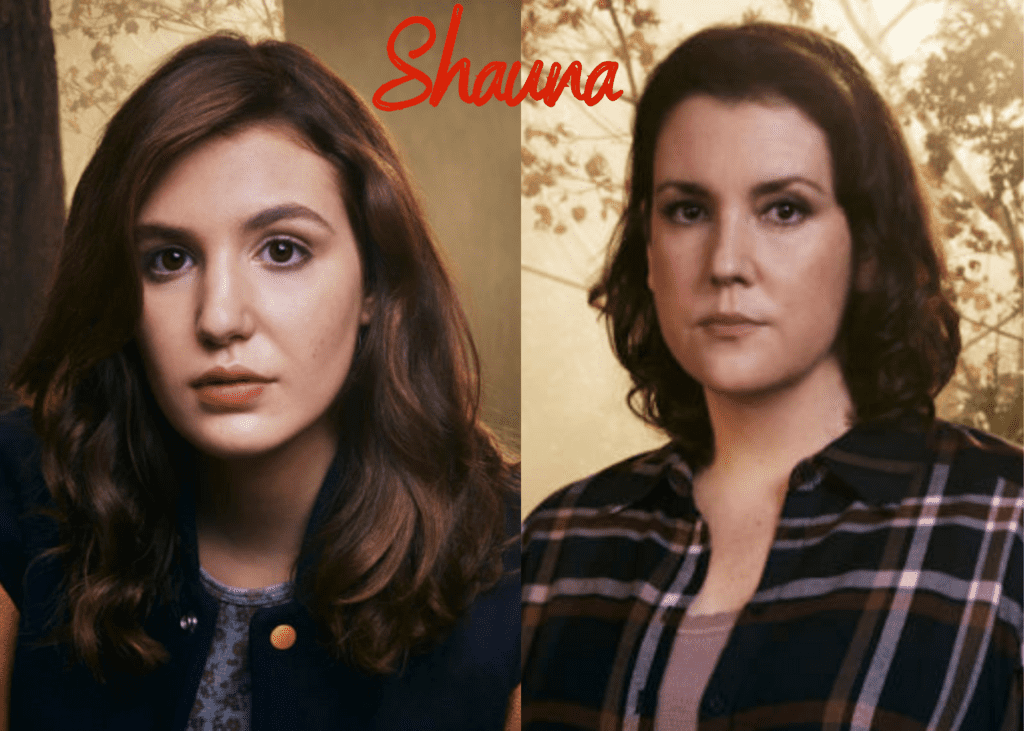 Although this is truly an ensemble show that gives all its characters fairly equal screen time, Melanie Lynskey and Shauna take a slight lead as most of the show is presented from Shauna's point of view, particularly in the present day timeline. God bless Melanie Lynskey. It is always refreshing to see an average sized woman in a leading role, and even better when an average sized woman gets some action in the sack. I don't want to dwell on the body criticisms Melanie has faced from producers or supposed fans. I want to celebrate the body positivity she projects. Shauna may be having a rocky patch in her marriage, but she is not insecure about her body or attractiveness. She is comfortable in her skin, which makes her an inspiration to millions who relate to her. I was seriously brought to tears by some of the replies to a recent tweet from Melanie calling out detractors, such as @novanewcomer who said, "I felt more seen and more beautiful the way you portray Shauna. That's not common with tv and movies." Nail. Head. I see you Nova, I see you. Melanie Lynskey/Shauna Shipman's presence is a gift to us all. Good gravy, I hope this conversation can be put to rest soon, once and for all! We need as much size diversity in casting as we do with any other form of inclusion. Fat women fuck! Get over it (or under it) already.
SHAUNA'S SHREW STRENGTHS
She knows what she wants and goes after it.
She's a rebel masquerading as a good girl.
She's not afraid to break the rules.
She stands up for herself when attacked.
ROOM FOR SHREW IMPROVEMENT
Shauna does not always speak her whole truth. She knows the truth, but she hides her feelings from those she is supposed to love.
NATALIE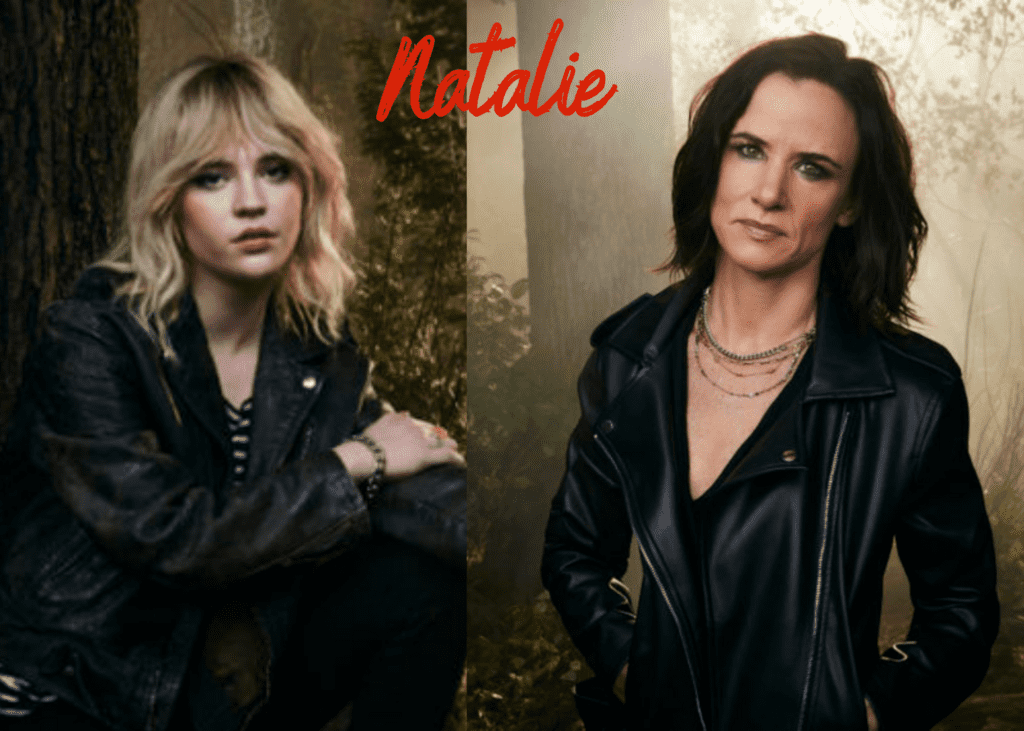 Nat is the hardcore rebel, punk badass. She had a rough upbringing even before the crash, and although she's had more than one stint in rehab for drug and alcohol abuse, she's still standing and still kicking ass. Nat does not give a single fuck what anyone thinks of her but at the same time radiates heartbreakingly raw vulnerability. She forges her own path, suffers no fools, and takes no shit or prisoners.
Juliette Lewis is perfectly suited for the role, completely natural and captivating. There is no denying: she is just damn good. Sophie Thatcher as Teen Nat is so compelling she makes me want to crawl through the screen, hug her and adopt her. I predict Sophie Thatcher is about to be the next big thing. She also recently popped up in The Book of Boba Fett and is currently filming The Boogeyman, a Stephen King novel adaptation. Can't wait!
NATALIE'S SHREW STRENGTHS
She's the fiercest of fierce and unafraid to get angry or loud.
She's a free thinking, non-conformist, living on the fringes who will fight tooth and nail for those she loves to the bitter end.
ROOM FOR SHREW IMPROVEMENT
She is prone to potentially toxic relationships, allowing love interests to treat her in ways that she would not accept from anyone else.
TAISSA

Taissa Turner may be the most overtly Shrewish character. She checks all the above listed attributes, as well as being passionately driven and ambitious. She is on a mission to hold power as both a teen and an adult. She is determined to win (the National championship in 1996 and a state senate race in 2021) whatever the cost may be. And, there is no way in absolute hell that she is not going to survive this stupid setback of being stranded in the wilderness. She is a proud Black lesbian, and she does not back down from anything or anyone. She can be intimidating and controlling.
I cannot repeat it enough times, every actor on this show is AMAZING! Jasmin Savoy Brown and Tawny Cypress as Taissa blow it up! What a role for an actor to really chew on (wink).  I'm running out of compliments. I'm embarrassed to say that I was not familiar with Tawny Cypress's work prior to this but I'm on a mission to fix that. She's been in a ton of great stuff that I just haven't had a chance to watch yet – like freaking House of Cards and The Blacklist. (I really have no excuse.)  I fell into a rabbit hole on her iMdb page and went on an unsuccessful YouTube hunt for her All My Children appearances from 2003. If you have them, please message me! This woman is a force of nature, an acting beast and I want to devour everything she has ever done. I feel like a fool to not know her already, but I guess we all make discoveries at the time when we need them most and I needed Tawny Cypress in my life at this moment.
Tawny's young counterpart, Jasmin Savoy Brown, is equally talented, with charisma for days. Her strength as Taissa is both admirable and intimidating. She and Tawny are so well paired in the role, it's astonishing.
TAISSA'S SHREW STRENGTHS
This character has it ALL. All of the above. 1000% Shrew.
ROOM FOR SHREW IMPROVEMENT
Taissa can be controlling, manipulative and ambitious to the point of being dangerous. She doesn't have to prove herself ALL the time.
MISTY. FUCKING. QUIGLEY.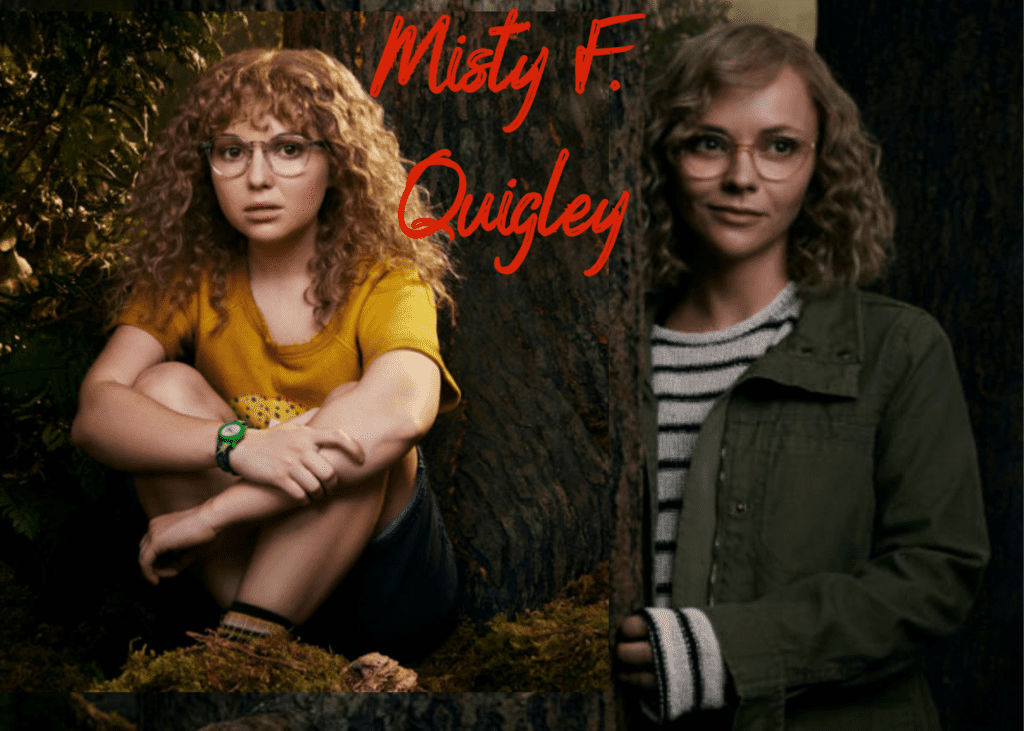 Hot damn. The middle moniker is a quote from Shauna that sums up this character precisely. Misty, Misty, Misty. What to say about Misty? Is she delusional and deranged? Yup. Is she calm and collected in a crisis? Absolutely. Is she exactly who you would want to have around in a zombie apocalypse? For sure. Are you better off dead if you get on her bad side? Quite.
Misty is the misfit outcast who finds her purpose after the crash. Her survival skills and quick actions save lives, albeit her methods can be terrifying. She's the lovable loser that you can't help but root for even while you're calling the cops.
Sammi Hanratty and Christina Ricci must have performed some kind of ritualistic mind meld to create this character. It is a joy to watch. I have never seen Christina Ricci quite like this and I have gained a whole new level of respect for her talent and abilities. Her icy exterior barely contains a lifetime of pain and rejection the character has compartmentalized. She is a powder keg with a hair trigger switch just waiting to go off. Handle with extreme caution!
MISTY'S SHREW STRENGTHS
Independence
Intense to the Nth degree.
She has been ostracized and bullied her whole life for being different.
She is steadfastly loyal to her Yellowjackets sisters and will make terrible sacrifices for a greater good.
ROOM FOR SHREW IMPROVEMENT
She could stop trying so hard to fit in and love herself more for exactly who she is. She doesn't have to prove anything to anyone. Her desperation to be loved is a turnoff that perpetuates a cycle of rejection.
Bring on Season 2!
There are so many additional amazing characters and a wide array of juicy topics to explore with this show. I'll come back to it again. I'm already re-watching Season 1 and wish Season 2 would get here NOW! I guess if the Yellowjackets can wait 19 months to be rescued, I can wait a few more to find out what happens next. (sad face) There's a lot of online speculation and fan theory chatter about which additional teen characters we will get to see grown up, what everything (like that creepy symbol!) means, etc. I don't feel the need to come up with my own theories. This is one show that I find myself with complete faith in the creators and the writing team that they know what they want, where they're going and how they're going to get there. I'm just grateful to go along for the ride.
Subscribe To My Newsletter
BE NOTIFIED ABOUT NEW VIDEO BLOG EPISODES OR ARTICLES